Happy Fall everyone! I'm spending the weekend at the beach in FL, so it doesn't really feel like fall here. I know that most everyone else is getting to experience some fall weather and all those traditional fall things. It's hard to explain fall to my students since it's not very fall-like where we live.
I'm super excited to join up with
Teaching My 3
for a Fall Blog Hop.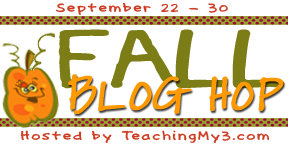 We've been practicing Even and Odd Numbers this week, so I made this cute little sorting activity to use for centers that I'm offering as a freebie for a limited time. Click on the picture to download your own free copy!
Here's some other fall games and activities that you might be interested in checking out at my TPT store.
Don't forget to check out all the other great blogs participating in the the
Fall Blog Hop
!