Get Ready for Bloggy Olympics!!!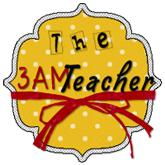 Join The 3AM Teacher, the Reading Olympians, and over 80 SUPREME education bloggers as we take you through a tour of the Reading Olympians Root Study Program!!

As many of you know, I teach special education in a resource setting to Kindergarten students. When I first opened the Kindergarten program, I was worried that it would be over my students' heads. Anything abstract is pretty tough for them to understand, especially if there aren't visuals.
We started by reading the book that discusses how we can use prefixes and suffixes to change the meanings of words.
My students have a difficult time expressing themselves orally and through writing and most receive language therapy. They have a hard time using the plural form of words, and I knew this is where I wanted to start. I showed them some pictures of common items and we discussed how to say the word (cat or cats) based upon how many objects were in the picture.
We attempted to do to the worksheet page in the unit, but it requires cutting out some intricate (at least for my students) puzzle pieces. It looked like they cut the pieces with a chainsaw. :/ Luckily, my 1st grade daughter LOVES anything related to school and was happy to make me an example.
This also showed me the difficulties my students faced is probably not typical of a general education student. I feel like this would be something most Kindergarten students could easily do, but my own students just don't have the developmental skills yet.
So to help my students out and give us more opportunities to work on this skill, I made this

Plural CVC Words - A Mini Unit for Using the Suffix -s

and it's a limited FREEBIE for the next 3 days.
I would have loved to try the Reading Olympians in a general ed class and see how the students would respond. I think other Kindergarten students would be very successful with this program. The Kindergarten level would also be appropriate for struggling or special education students in 1st or 2nd grade. You'll definitely want to see how other classes were able to use the program by checking out the links below.
Discover the program IN ACTION in more K-6th grade classrooms as you Pass the Torch!! Get ideas, discover the progression of the program, and enter the Raffle for a chance to win ONE of the three prizes listed below!!
First Place Winner : Gold Medal
Prizes: Complete Reading Olympians Program
$50.00 Amazon Gift Card
50% off Discount Code for a 1-Day shopping spree at The 3AM Teacher's Etsy store!
Second Place Winner: Silver Medal
Prizes: $25.00 Amazon Gift Card
40% off Discount Code for a 1-Day shopping spree at The 3AM Teacher's Etsy store!
Third Place Winner: Bronze Medal
Prizes: 30% off Discount Code for a 1-Day shopping spree at The 3AM Teacher's Etsy store!
Pass the Torch!!!
Click the image below to visit the next blog
Kindergarten:
Grade 1 & 2
Grade 3 & 4
Grade 5 & 6
a Rafflecopter giveaway